String Beans in Soy Sauce – Adobong Sitaw
Jul 20
This is one of the easiest dish to cook here. Here's a very simple recipe of this Filipino dish.
One of my favorite vegetable dish that is so easy to cook!
Ingredients:
1 cup sitaw (stringbeans) cut into 1 inch size
3 cloves of garlic minced and chopped
1 medium onion sliced
3 tablespoons of soy sauce
3 tablespoons of vinegar
half a glass of water
200 g chicken fillet sliced or ground pork (meat is optional)
oil for frying
salt, pepper to taste
2 pcs dried bay leaf (laurel)
peppercorns
Procedure:
Add oil in a pan, and fry garlic, then onion till soft. Add in the meat (here i used chicken fillet) stir fry, then add the string beans, stir fry a little. Add the liquid ingredients and simmer. Add salt and pepper, depending on your taste. Cook until the vegetables are tender, add in the bay leaf and peppercorns a minute or two before turning off the fire.
Serve with rice.
Belgian Bites Valentines 2012
Feb 13
"All you need is love." But 9pcs. Belgian Bites in Sweet Heart  Tin Can will make Valentine's Day extra special. Share the romance today.
My sweetheart just arrived home and guess what, he brought me Belgian Bites Valentines  Sweethearts from Mister Donut, with teddy bear included. Belgian bites is one of my favorite munchies. Yummy!
Because there are three (3) designs of Mister Donut Sweet Heart tin cans with Belgian Bites that can make your sweetheart fall in love again and again and again. So go to a Mister Donut shop near you and be the first to get the new Sweet Heart tin cans.
This include one heartshaped tin can, one cute little teddy bear, one balloon and 9 pieces belgian bites munchies all for the cost of P150. Their promo ends until supplies last.
Happy Valentines!
From Hangout Natin Staff
Trivia:
Mister Donut is a fast food franchise founded in the United States in 1956. The primary offerings include donuts, coffee, muffins and pastries. After being acquired by Allied Lyons in 1990, most North American locations became Dunkin' Donuts. Today its main market is in Japan, where it has more than 1,300 locations. It also maintains a presence in Taiwan, South Korea, China, Philippines, Thailand and El Salvador.
Philippines' Lechon Baboy
Jul 26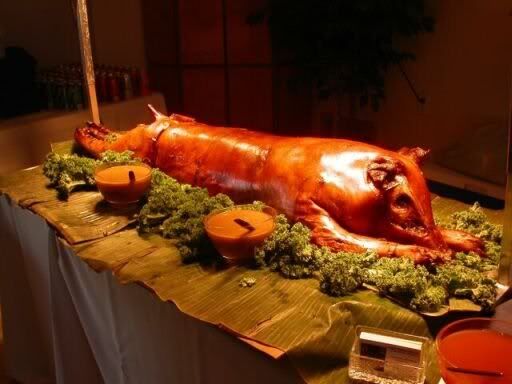 or Roasted Pig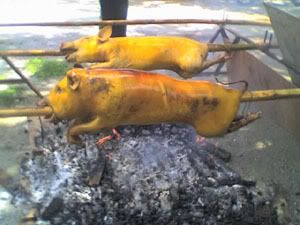 Lechon is one of the most favorite food here in Philippines, and it is widely served during special occasions, a favorite by many.
Lechon is a whole roasted pig, some put different kinds of veggies/spices/herbs in the belly, others brush olive oil or butter to the skin before roasting it.  Others prick the skin while others don't.  Cooked over live coals.
This is really mouthwatering and full of cholesterol.  Most people attack the skin first… lol when it is ready to be eaten, imagine that crispiness… yum yum, makes my mouth water already.
Last week, my mom celebrated my nephew's birthday and Christening and this one was part of the food served.  Boy oh boy, I was the one who was in charge in chopping it, and of course the first one to take a piece of that crispy skin.
It was sooo good, but of course if you have highblood, you shouldn't be eating this… There were other foods served, like king prawns, fried big fishes, crabs, but the lechon was the best of all.  Of course most people here consider it as the best of the best, imagine a whole roasted pig lying there on the table ready to be eaten.  A whole lechon can be bought for less than US$100.00, depends on the size.
Plenty of ways to cook the left over by the way, and one of the most used recipe is that of lechon paksiw, where you cook the leftover lechon in its gravy with some peppercorns, vinegar and sugar.
Enjoy the pics, hope your mouth is watering also…:D
I was not able to take my own pics, my cam got low bat, so the pics posted here are from other sources, credits are below:
http://photobucket.com
http://www.shopiligan.com
http://2.bp.blogspot.com
http://www.familytreegenealogy.info